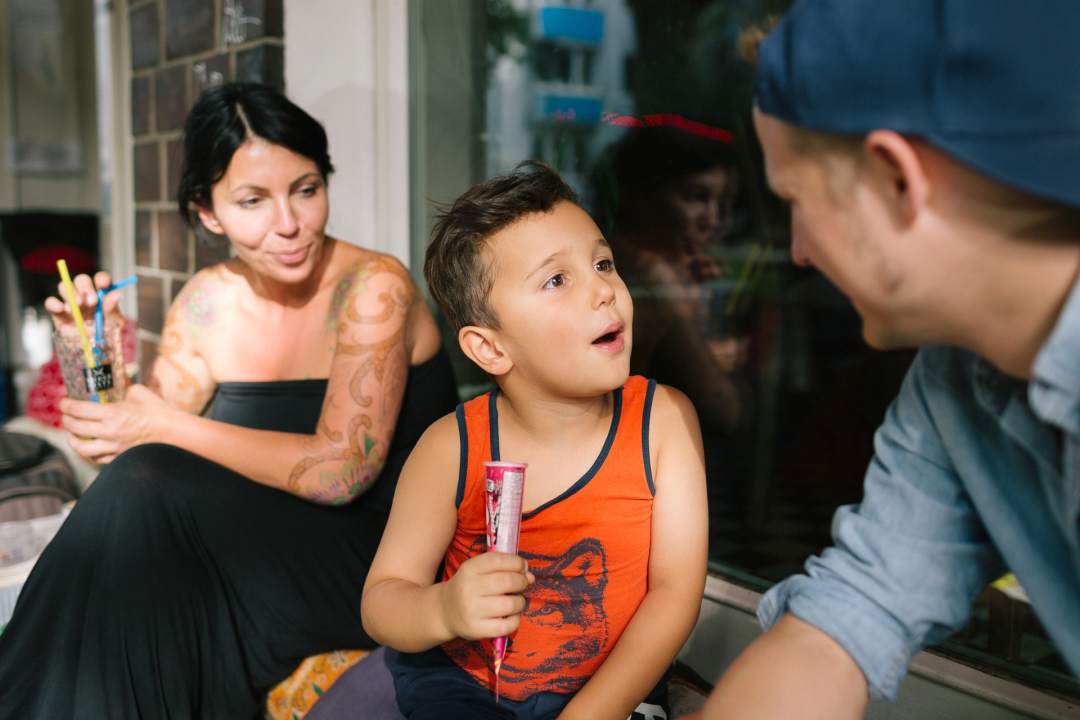 As I leave Essen, fat and happy from the currywurst I polished off right before boarding the train, I can't stop smiling. 96 hours ago, I never would have thought I'd be leaving with so many amazing memories in tow. Good thing I got off the train this time…
So, let's start at the beginning:
I grew up in a town west of Essen and have lived just an hour north of the city for years. I'd often switched trains at Essen Central Station, but I'd never seen more of the city than the railway tracks. Typical, really. Why take the time to explore what's just outside your front door when there's an entire world out there waiting to be explored? At least that's what I thought for the longest time – about Germany in general and Essen in particular.
But now, at last: Off to Essen, out of the station, and into the beating heart of the Ruhr Metropolis, a.k.a. the "Coal Pot".
I had initially planned to spend 48 hours here. I mean, that should be more than enough to see the city, right?
Wrong. After what turned into a four-day trip, all I can think is: I've got to come back. So that's why I divided this post into two parts. In Part 1, you can read all about my first two days in Essen.
Before my trip even began, I asked my Facebook friends for a few good insider tips. Sure, I could have just referred to a few travel guides, TripAdvisor, and the like – but as any self-respecting travel blogger knows, the best advice comes from those who have actually lived or still live in the place you're about to explore.
The social media powers that be didn't disappoint, either: through a friend of friend, I ended up finding a young photographer from Essen who kindly volunteered to show me some of his hometown's best highlights and shoot a few pictures along the way.
Ian Siepmann Baum was waiting for me, camera in hand, as I arrived. Conveniently enough, the first spot he wanted to show me was just a ten-minute walk away:
Day 1
11 am: A sea of color in the "Unperfekthaus"

Such a bright, rainbow-colored oasis of creativity like the Unperfekthaus is something I would have expected to find in Berlin, but not necessarily here in the middle of the (famously grey) Ruhr Valley. Entrepreneur and Essen-native Reinhard Wiesemann had the brilliant idea to transform a former Franciscan convent into the 7-storey community of artists and entrepreneurs I now saw before me. Right in the heart of the city and the only one of its kind in Germany.
Here, creative spirits find the space they need to let their imaginations run wild. The only requirement: they have to be okay with looky-loos like me watching over their shoulder as they work their magic.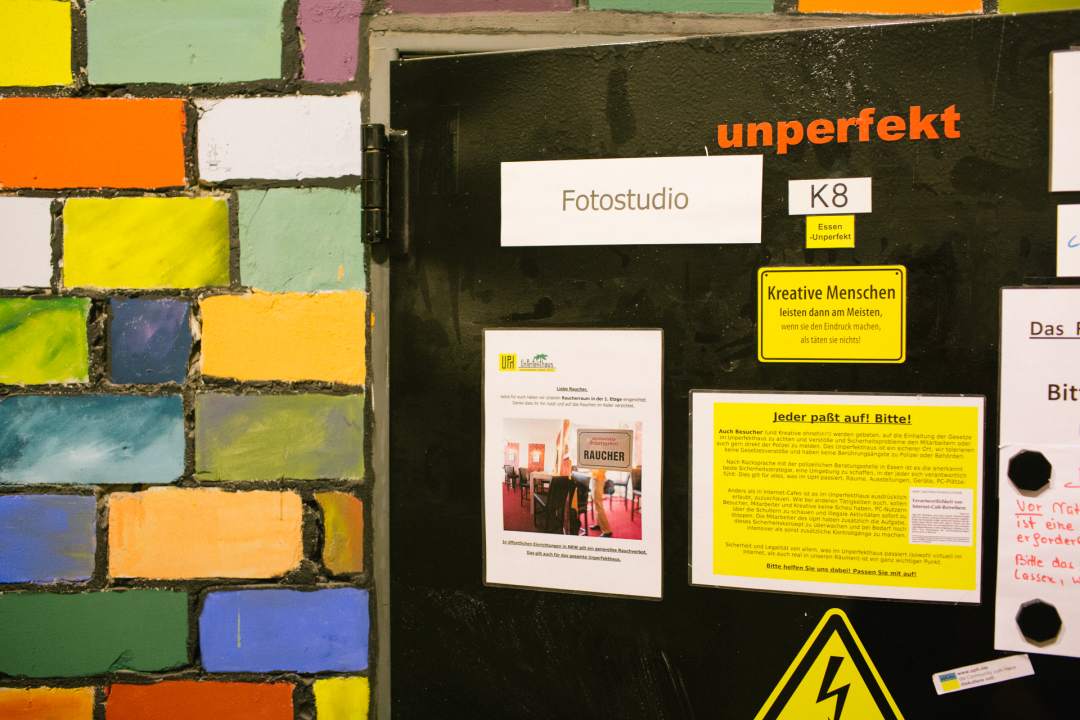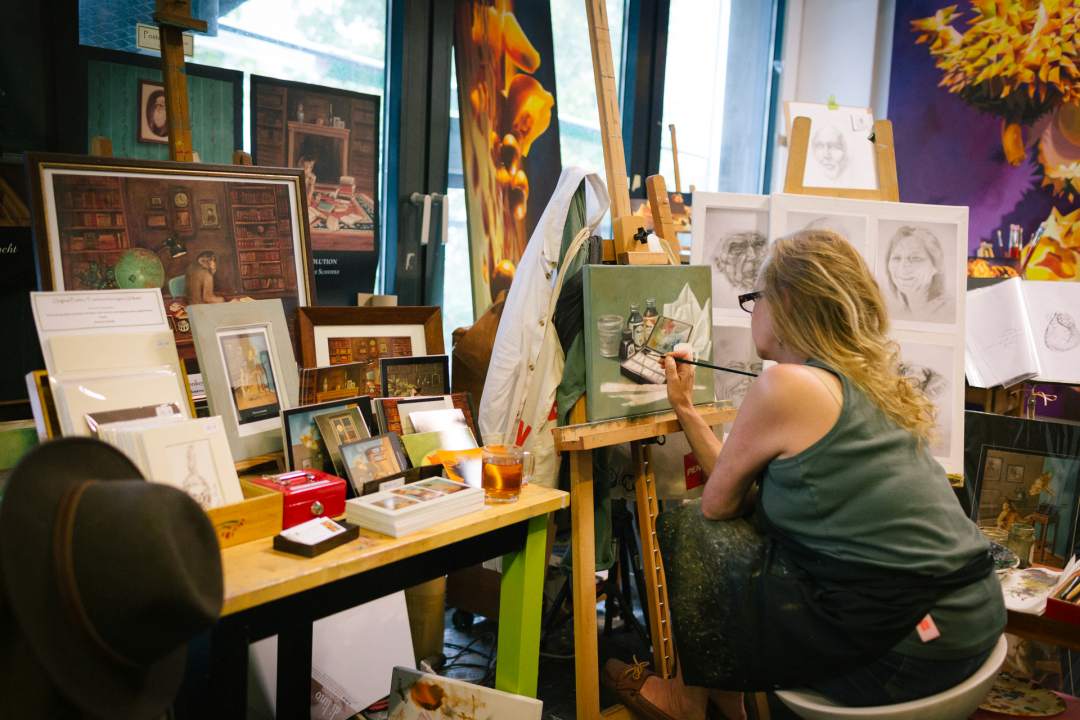 As I look around, this is what I see: one person building pet coffins for when Fluffy or Lassie rid themselves of their mortal coil, while another is busy experimenting with a "clothes-on sauna". It's chock-full of people, with a death metal band practising in the same room where a group of elderly women holds their regular meeting to discuss the joys of baking. And all while the little ones give full scope to their fancies in the "Kinder Kultur Werkstatt" ("Children Culture Workshop").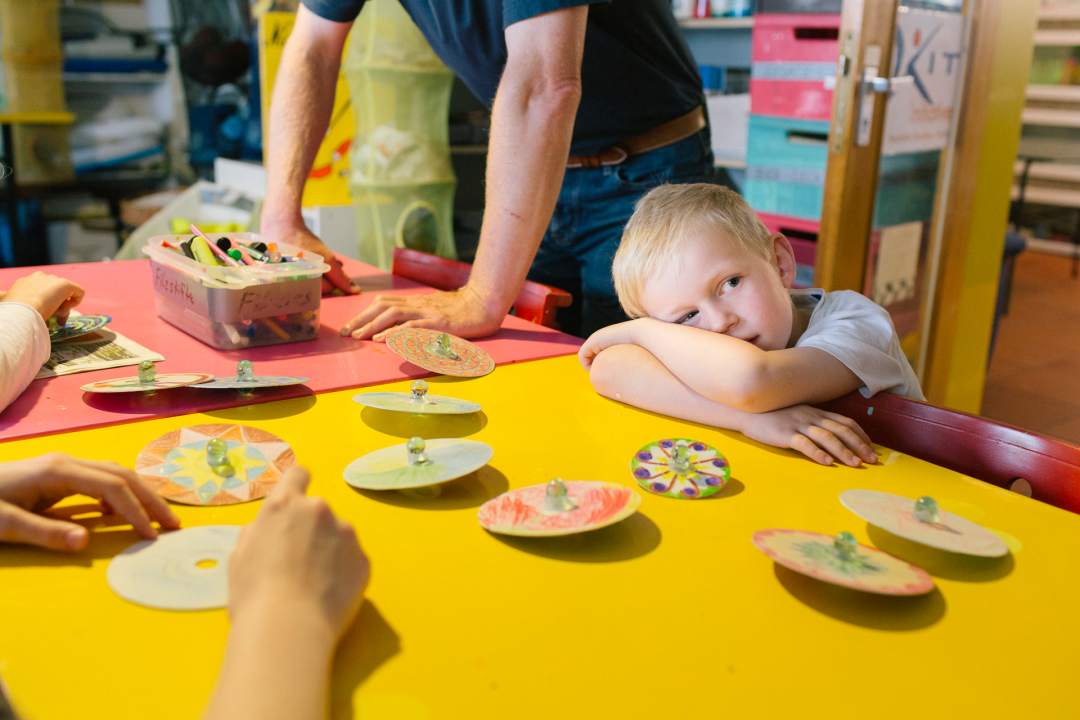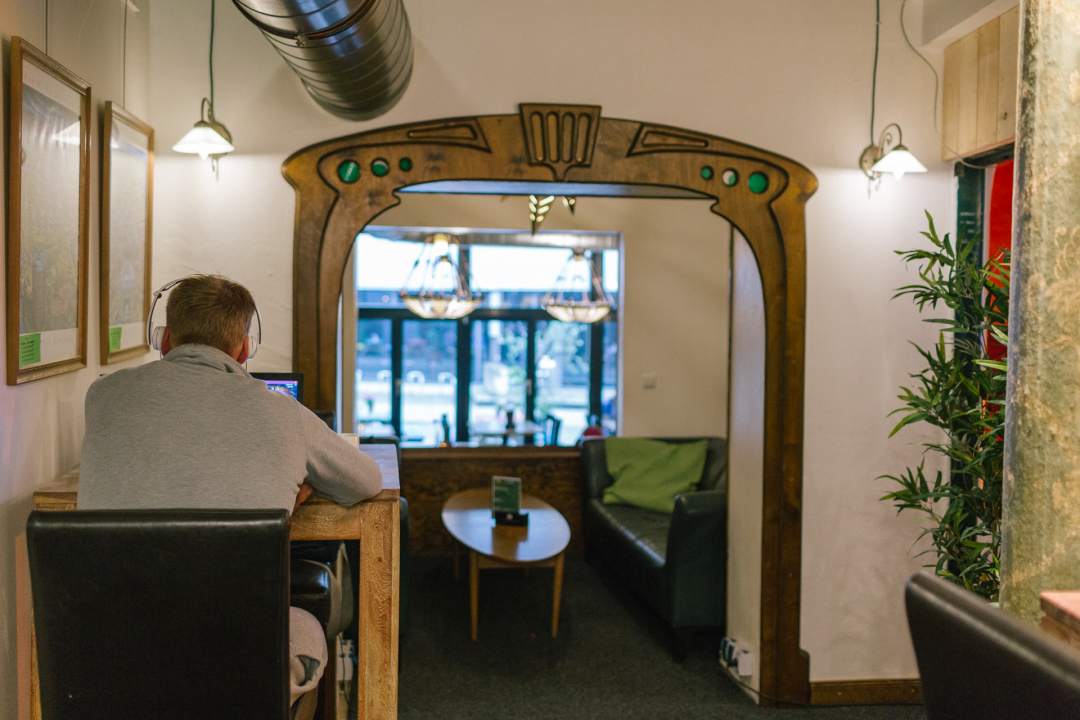 Actually, the painters are the most conservative members of this colorful bunch. I had a nice conversation with Ariyadasa Kandege from Sri Lanka, who proudly showed me his certificate which named him the world's only registered "Ruhr City Painter".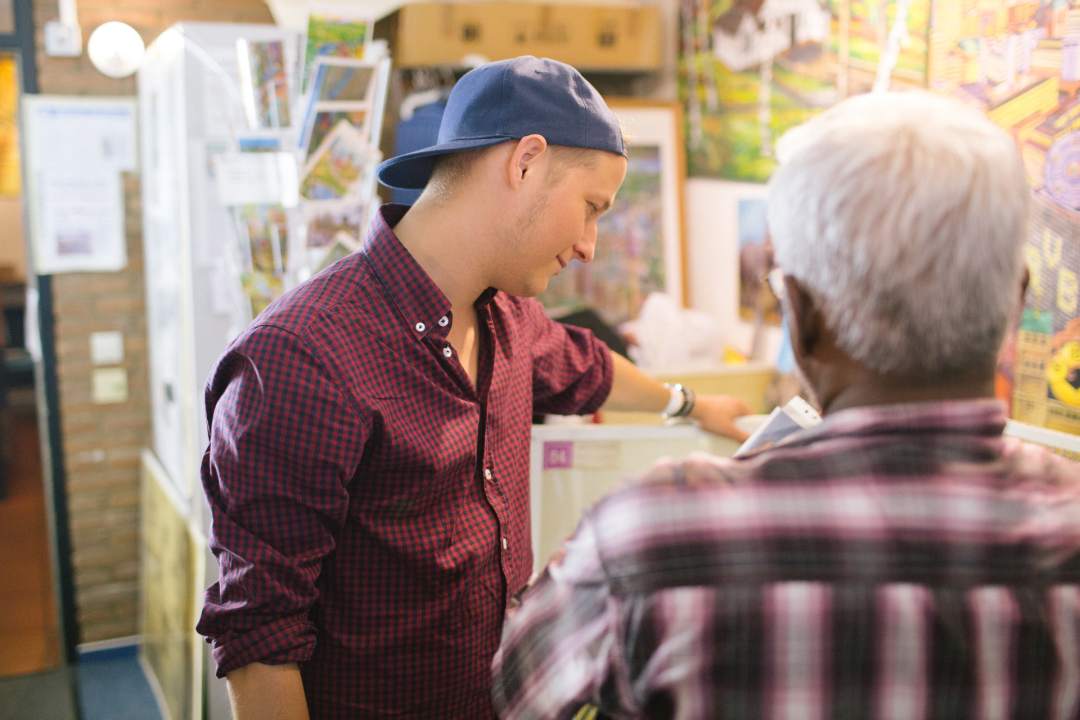 He's just one of the many success stories who got their start in the Unperfekthaus', which acts as a stepping stone for aspiring artists. Which makes since. I mean, where else in the world could you get access to a fully equipped studio complete with the latest technology, a website, PR consultants, and all-you-can-drink coffee for just 15 euros a month?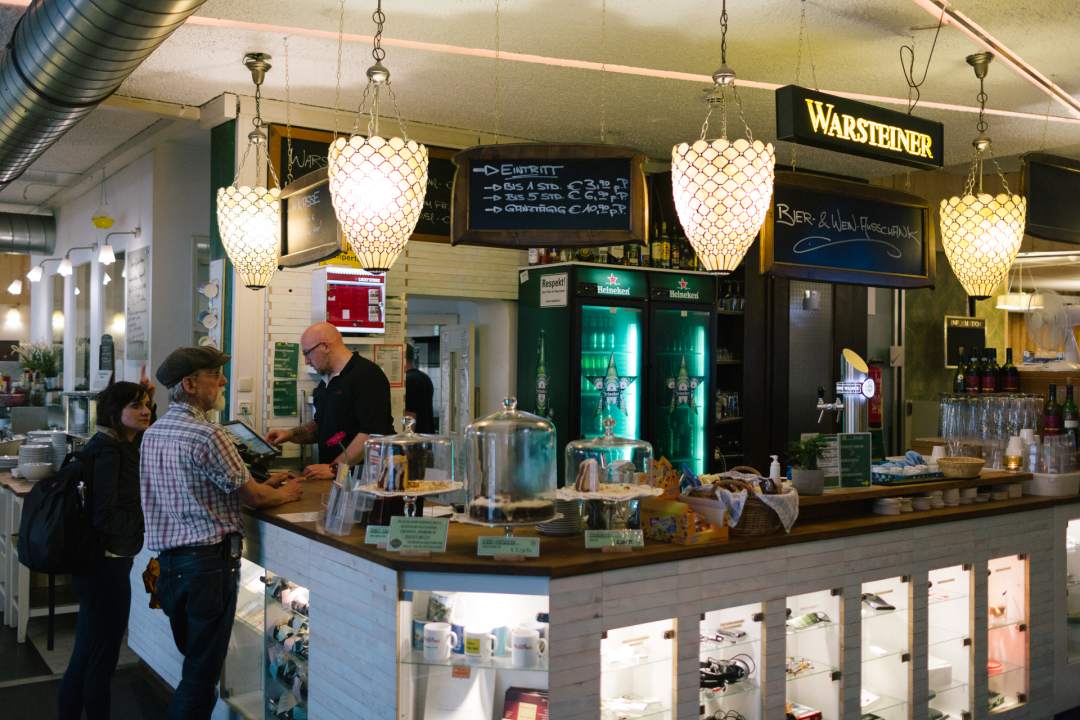 As visitors, we fit perfectly into the overall concept, since the Unperfekthaus is financed in part by the price of admission. Just like the artists and freelancers that only come here for a day, visitors pay between 4 and 11 euros for each visit depending on how long they stay. This is a killer deal, especially when you consider admission also covers all non-alcoholic drinks.
You can also rent space in the Unperfekthaus for seminars, events, and weddings at reasonable prices or stay overnight in the Unperfekthotel or shared apartment.
I can definitely recommend their delicious buffet, which will run you about 12 euros. After filling up on some yummy buffet food, we set off for the northern part of the city.
3 pm: Industrial romanticism at the Zeche Zollverein
The Zeche Zollverein – a former coal mine – is without a doubt the heart and soul of the city and its greatest pride. With good reason: it's the Ruhr Valley's only UNESCO World Heritage Site and the most-visited attraction in all of North Rhine-Westphalia after the Cologne Cathedral. All you industrial-culture fans out there will be amazed by what you find here – and you non-fans, too.
Honestly, you can't help but be inspired by what you'll find here. From the Ruhr Museum and Red Dot Design Museum to the "Works Swimming Pool" at the old coking plant and more than 20 different guided tours, you could be here for days and still not have seen and experienced it all.
We opted for the "About Coal and Miners" tour and expected to be shown around by a former miner with a wicked regional "Ruhrpott" dialect. Much to our surprise, our guide wasn't from Essen's Kettwig or Kupferdreh districts – he was from Nepal. Typical Ruhr, where people from every imaginable background get mixed together in the "Coal Pot".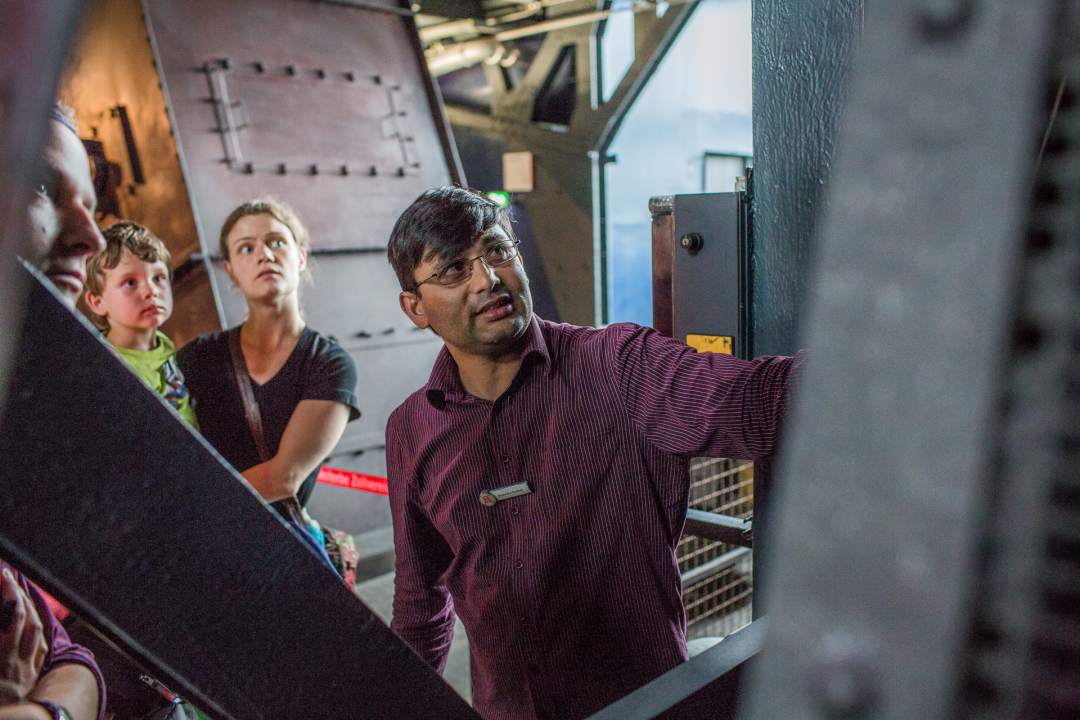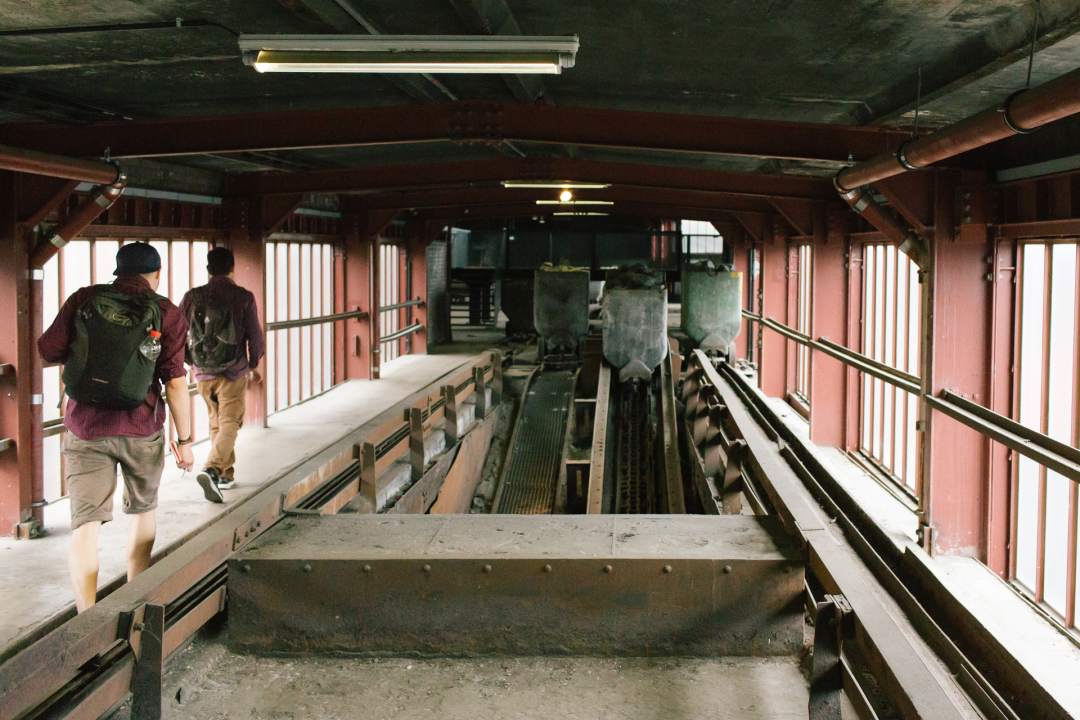 The tour through the Zollverein took two hours, during which sound effects and video projections brought the old machines back to life. We got to operate a massive jackhammer that the miners used to work with for eight hours a day and started to get an inkling of what "heavy machinery" really means. I will never again complain that my tiny, two-kilo notebook is heavy!
7 pm: Bohemia on Isenbergplatz
The Isenbergplatz in Essen's south district has a romantic, Parisian charm. A colorful mix of unique second-hand and designer shops, cafés, and restaurants makes this square a welcome change to the standard, uniform choices one tends to find in the inner city. There's even a playground in the middle of the square, where mothers can keep an eye on their children while simultaneously sipping at their espresso. Très chic.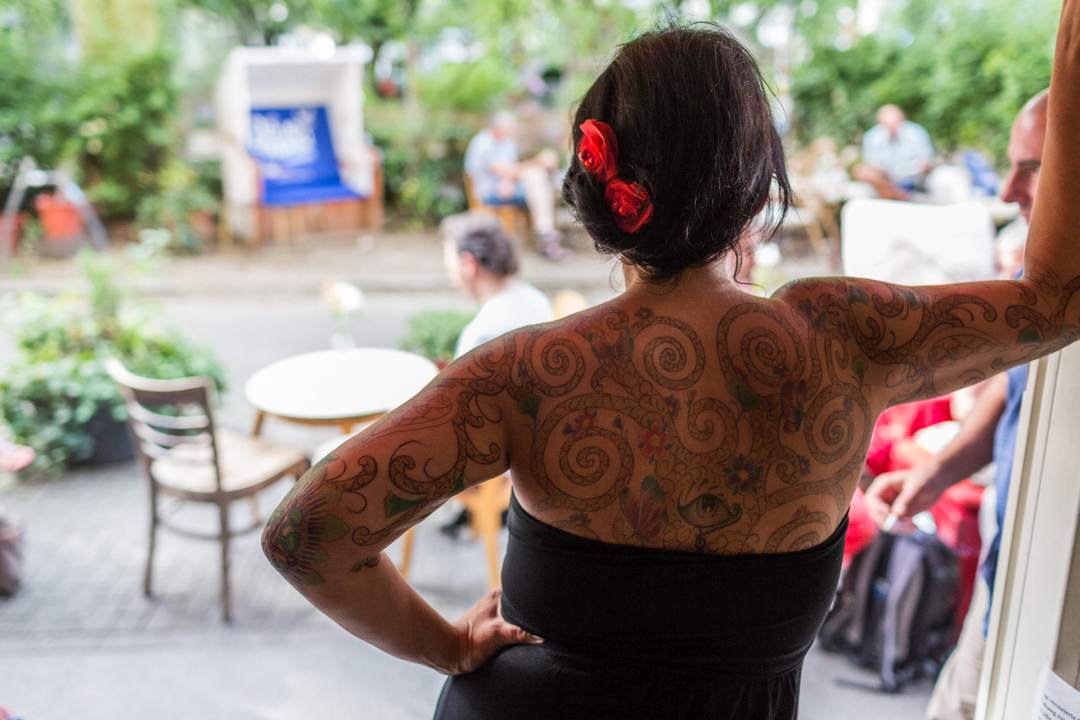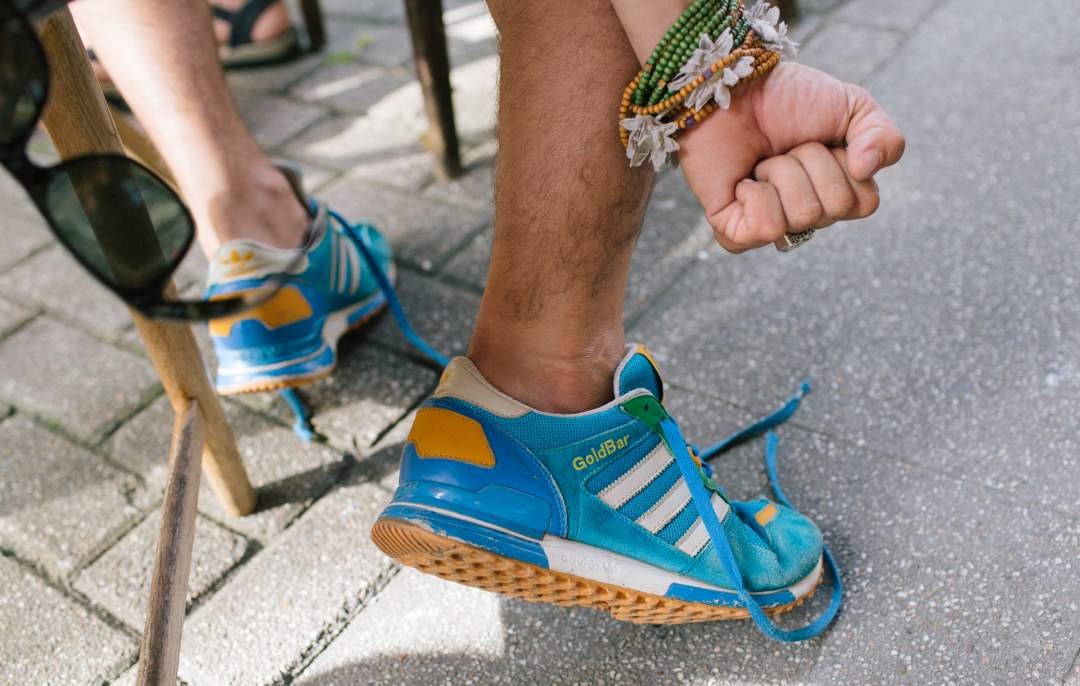 We sat down on the windowsill of Gold Bar, just one of the square's many vibrant cafés, and were immediately greeted by a random stranger. Seriously, you've got to love the Ruhr Valley.
Our new friend, a jewelery designer and full-time bohemian named Cem, told us the story of the homeless accordion player Günni who used to walk from bar to bar playing a tune until his death in 2004. The statue I saw of an old man playing an accordion in front of Café Click suddenly made sense. And that's when I really started to fall in love with this city, if I hadn't already. In Essen, even the "little guy" is worthy of a monument.
Cem was just beginning to tell us about how great the well-known Dutch "Frietjes" ("fries") in the neighboring Café de Prins are when her son came back from the playground, plopped down between us, and starting chatting away. Like mother, like son. With sparkling eyes, he told us about his father, who just happened to be a famous Samurai. At this point, I was no longer sure what was real and what was make-believe… but really, what did that matter? His childlike enthusiasm was contagious.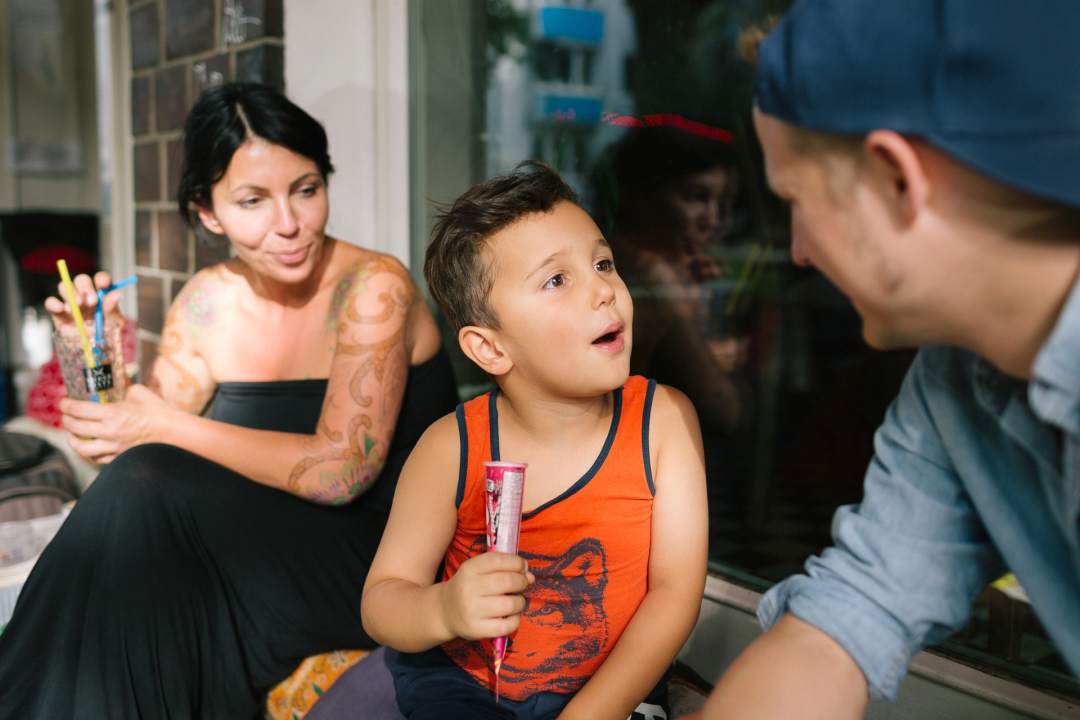 We said our goodbyes after about an hour when we could no longer ignore the growling of our stomachs. It was time for dinner.
8 pm: Dinner in the Zodiac
Everyone knows those standard menu phrases: "We're here to serve you". "Make yourself at home". And the new classic: "A holistic, eco-friendly dining experience is our top priority".
Blah. Blah. Blah.
But: the moment I stepped inside, I actually began to believe there could be more behind these phrases than just empty words. And after I spoke to Mo, the Zodiac's 72-year-old owner, I was sure that this place was something special. The good vibes were palpable. Mo patiently explained to me the philosophy behind his organic restaurant and its loving attention to detail.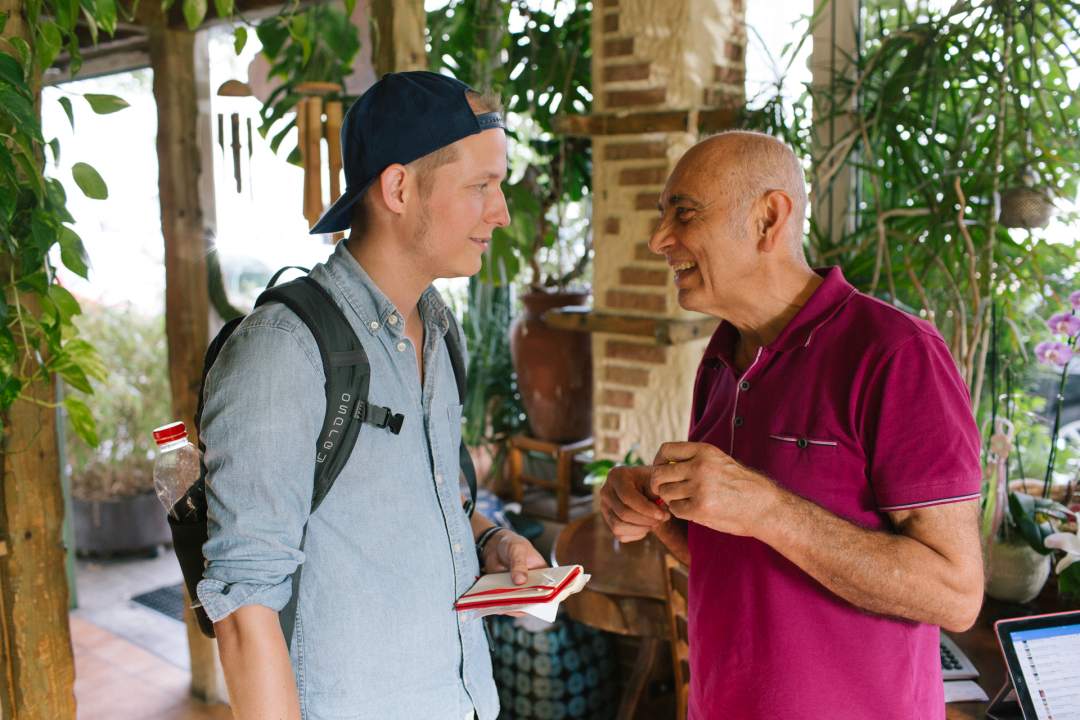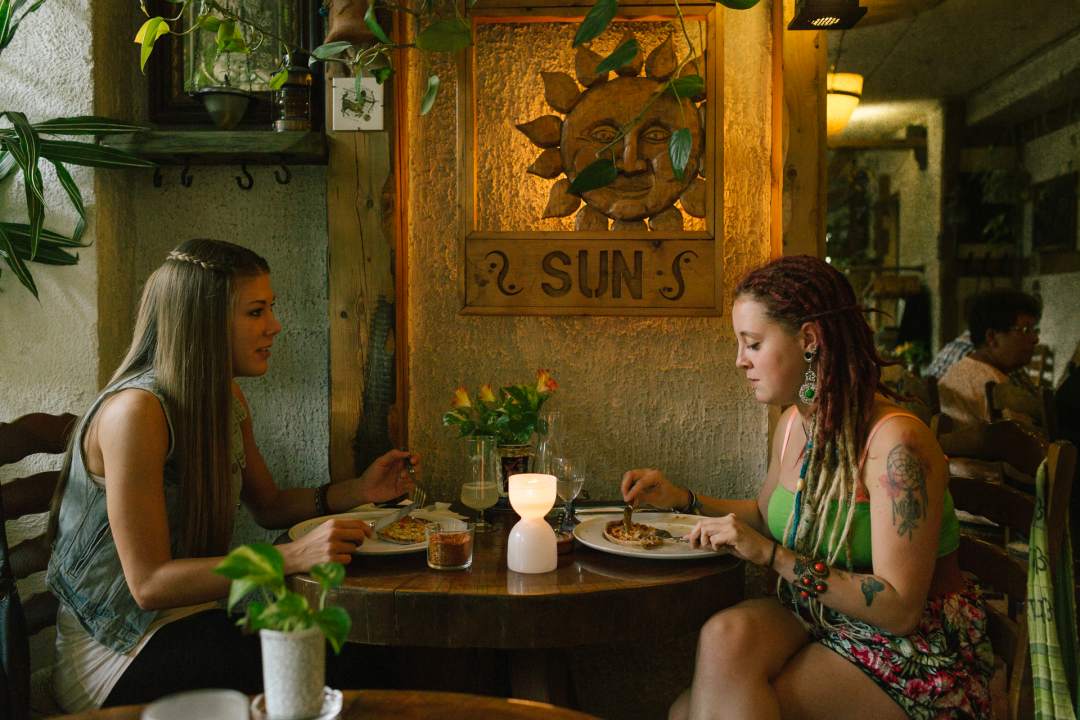 He explained why everything here revolves around the magic number twelve. How twelve friends with twelve different zodiac signs inspired the twelve different pizzas.
Sadly, we weren't able to try them all. After all, whole wheat pizza isn't just filling, it's also a delicious, pizza-shaped sleeping potion. So we made like Sleeping Beauty and ended the first day in Essen before the clock struck midnight. But lucky for me, Essen's magic was far from spent.
Day 2

1 pm: A break from the big city in Grugapark
Here's something you should know about me: I have a thing for city parks. They have this special magic that can drown out the city noise and let you forget about "real life" for a while. Only the view of the office building just beyond the treetops reminded us that, just outside, the daily 9-to-5 grind continued.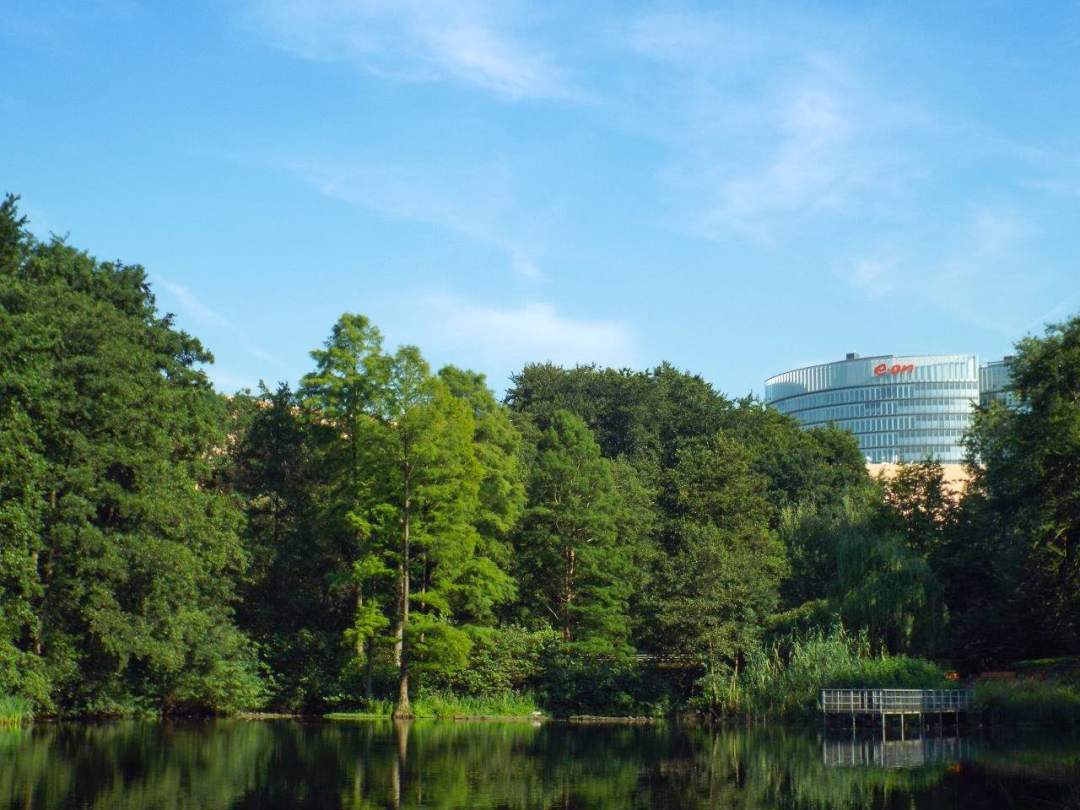 During a trip to Australia in 2014, I spent a great deal of time in the city parks of Sydney and Melbourne. Absolutely beautiful. But I have to say, the Grugapark gives them a run for their money.
As we walked, we passed young couples lazing around between trees and bushes, several large Turkish families picnicking together, and even two senior citizens doing yoga. And look! There's a topic corner where you can learn all there is to know about fair-trade coffee.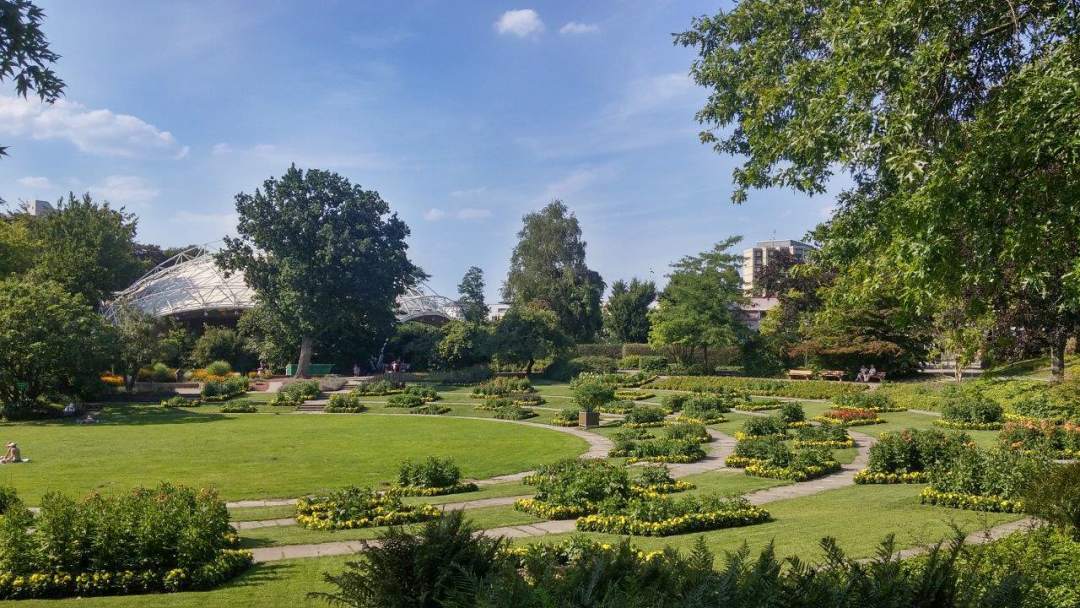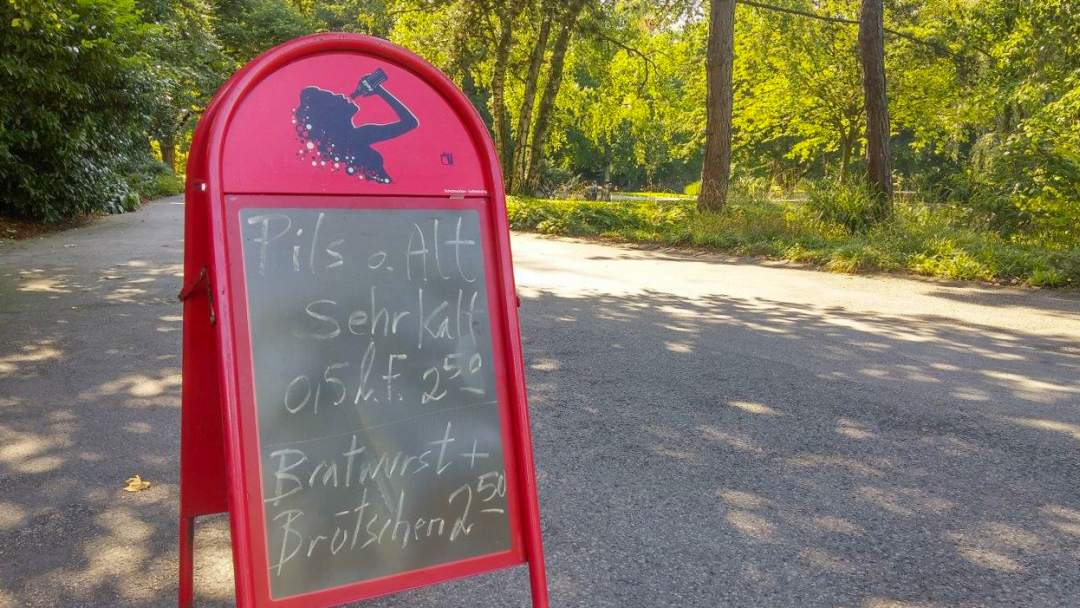 The Grugapark is a great mix between an urban park, botanical garden, and zoo (no joke, have you ever had a group of Cuban flamingos stare you down? Come to the Grugapark and you will).
Second only to the bratwurst with "Brötschen" ("bread roll"), my favorite part of this park was a simple button on an information board in the Rose Garden. If you press the button, you'll hear the most relaxed voice you've ever heard in an audio guide (sorry, in German):

After 15 minutes, I was totally relaxed – and an expert in roses. Trust me, make time for this when you're here. You can thank me later.
5 pm: Turning back the hands of time in "Margarethenhöhe"
If you leave the Grugapark to the west through the "Lührmannstraße" exit, you're just a short walk away from entering a fascinating garden suburb: Margarethenhöhe.
This "garden city" was founded in the early 20th century by Margarethe Krupp as a residential area for employees of the Krupp company and Essen's public officials. The settlement itself is nothing spectacular; one could even consider the architecture somewhat dreary. Nevertheless, I really enjoyed roaming its streets and letting its 1950s charm send me back to a different time, even if only in my mind.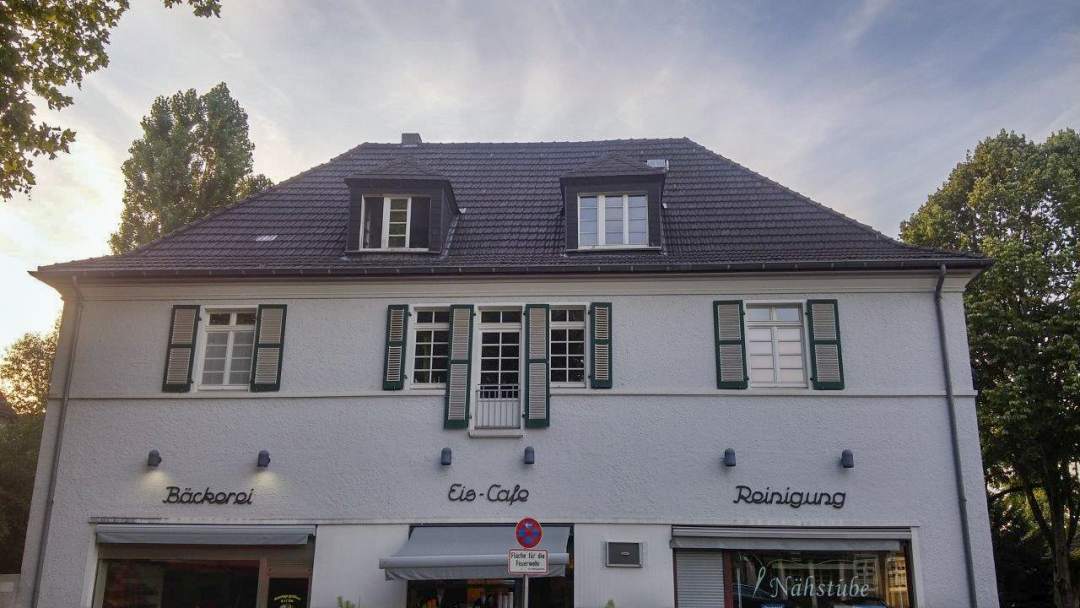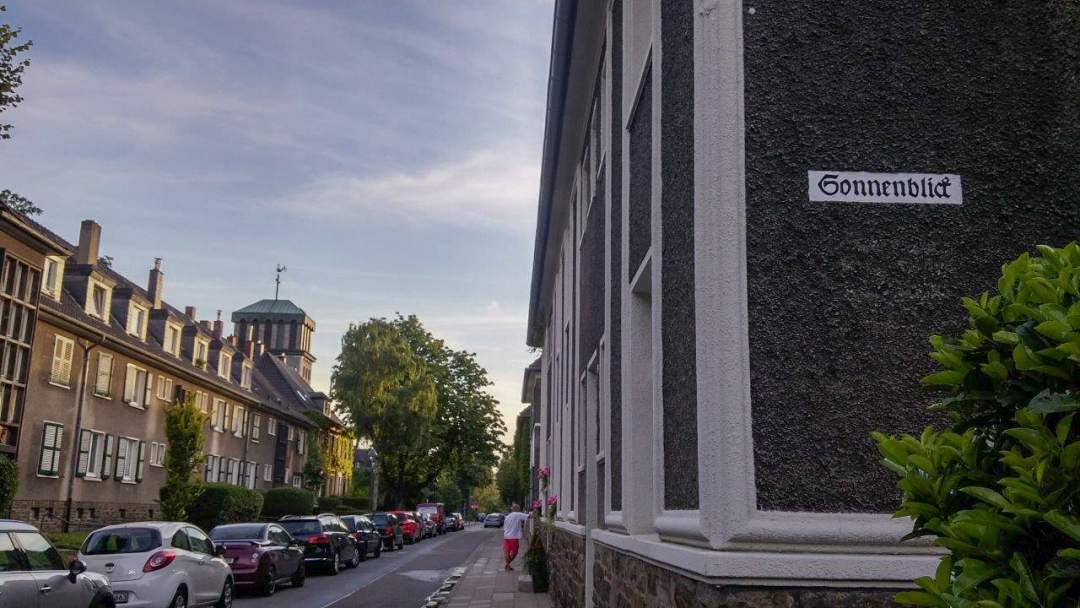 At first glance, each house is an exact replica of the next one. But a couple in their early twenties that I met on the way told me a secret: while they're all made of the same basic components, each house combines them in its own, individual way.
If you haven't done so yet, it's time you note: strike up conversations with the locals! That's the only way you'll ever get to see past the surface of things.
Since Margarethenhöhe is located in the southern part of the city, a.k.a. the most sought-after residential area in Essen, it's practically impossible for your Average Joe (or Jane) to find an apartment here. The only option is to add your name to a mile-long waiting list or inherit the right to rent from a deceased family member. Not surprisingly, the couple wants to stay…
7 pm: Burger bliss in Tofino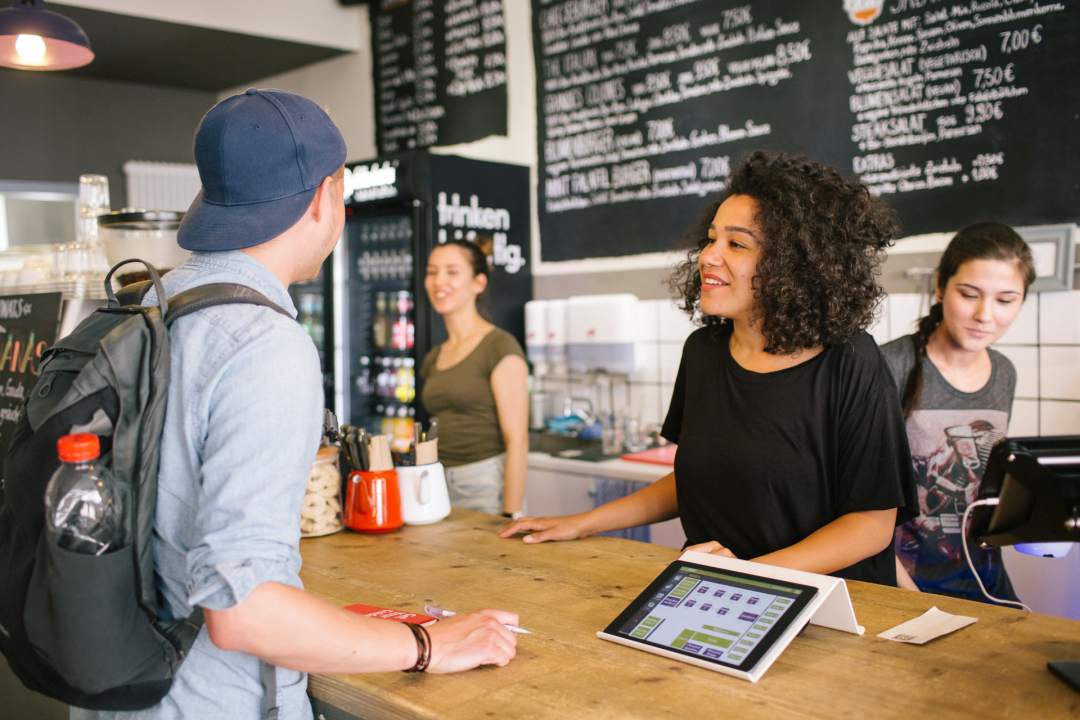 Going from Margarethenhöhe to Tofino is like a mini time warp. After all, making premium burgers with organic meat is still a fairly recent trend in Germany. A perfect balance to the vegetarian movement, these babies are springing up left and right all throughout Germany – complete with retro signs coaxing passersby with today's specials written in white chalk. And Essen is no exception.
This spot is hip and jam-packed. And for good reason: these hamburgers are a feast for the eyes and the tastebuds (my recommendation: "The Italian").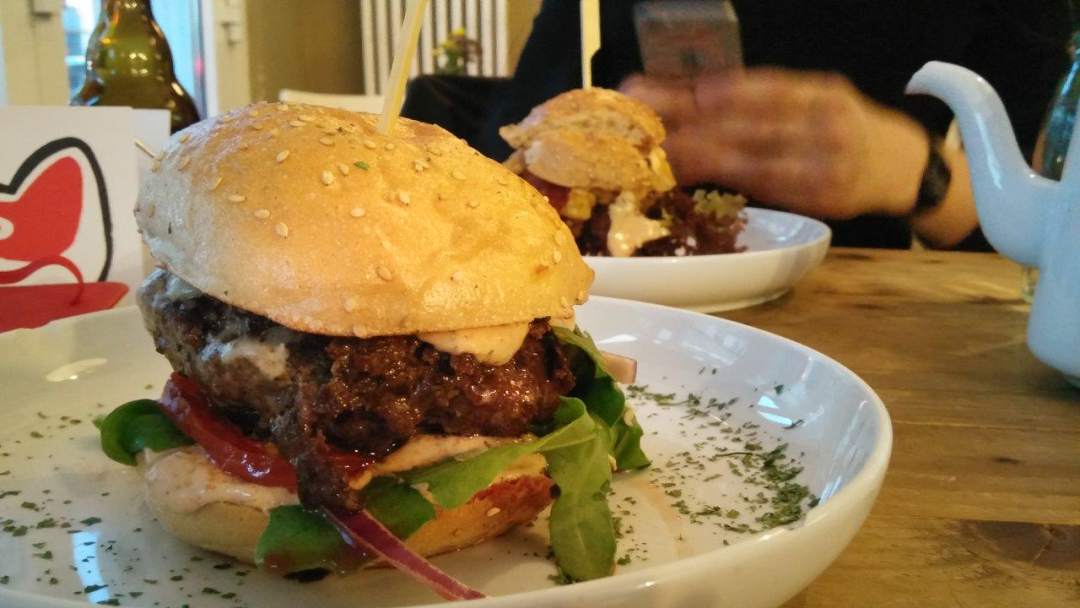 Next to the burgers, what I especially liked about this place was the crowd. Tofino isn't just a joint for students, young professionals, and hipsters; while we ate, we also saw the worker we had just met at a nearby kiosk and a sweet old lady chowing down on their burgers of choice.
Now we (and our stomachs) had the solid base we needed for our trip to the bar.
9 pm: "Velvet Collar" in the Ampütte
In Essen, everyone knows the Ampütte, a cult dive-bar in the nightlife district of Rüttenscheid where every Tom, Dick and Harry can come together to enjoy a few glasses of Stauder pilsner. It's been a local institution for more than 100 years.
Even the great David Copperfield was enchanted by this bar's authentic, dusty environment, complete with vintage ads for Asbach beer, Grandma's furniture, and a cash register from the 60s. And not because it's hip – simply because no one's ever bothered to change it. You should actually try to avoid bumping into the lampshades if you don't want to set loose a cloud of dust.
One more tip: definitely make at least one trip to the (men's) restroom. It absolutely redefines the term "minimalism".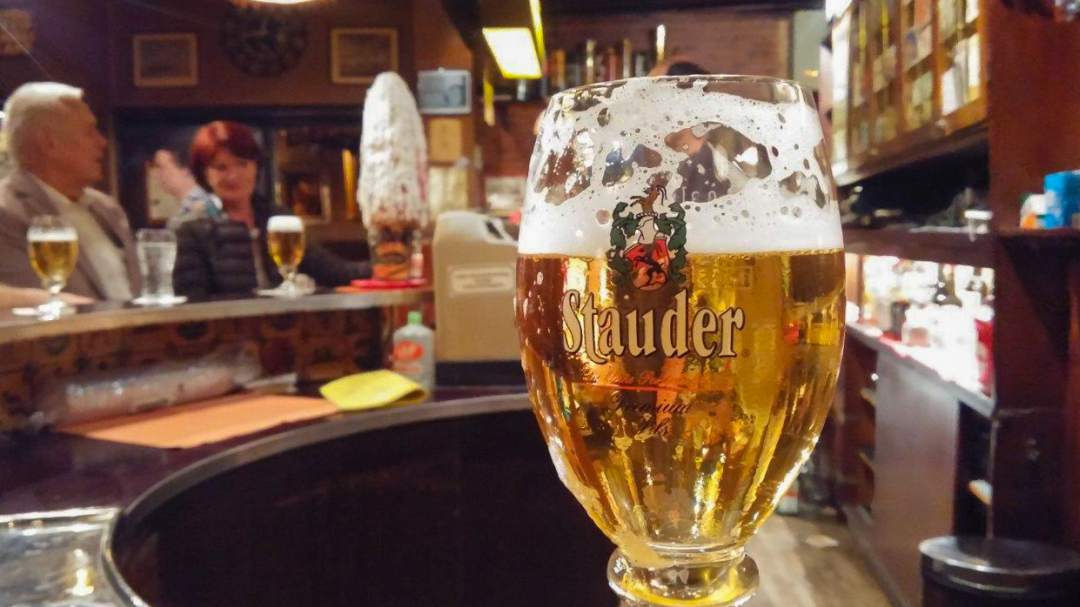 As I chatted with Manni – an Ampütte regular born in 1935 – about his career odyssey through Essen's various Edeka grocery stores, the bartender asked me if I'd like a "Samtkragen" ("Velvet Collar").
Velvet Collar? Why not! But what is it?
"It's a typical schnapps from around here", he says. "You have to try it."
Boonekamp and German Korn. Down the hatch.
Unfortunately, two negative flavors didn't produce a positive one in this case. I asked the bartender if this horrific drink has ever made anyone sick.
"It's one of those drinks most people prefer to have after vomiting", he laughs.
And we're off to the next stop.
11 pm: Last call in the Drehscheibe
Before coming to Essen, the one thing that people kept recommending was the Drehscheibe. But other than a name, I had no idea what to expect.
"You have to go there at least once while you're in Essen", they said.
One look at the website was all we needed to know what we'd be getting into:
"Since 1993, everything thing here has revolved around German Schlager music, nice people, fancy drinks, high spirits, and a good time."
René Pascal, the self-proclaimed "Schlager God from the Coal Pot", also known through appearances on the show TV Total, cooly plays one beat-dropping Schlager hit after the other.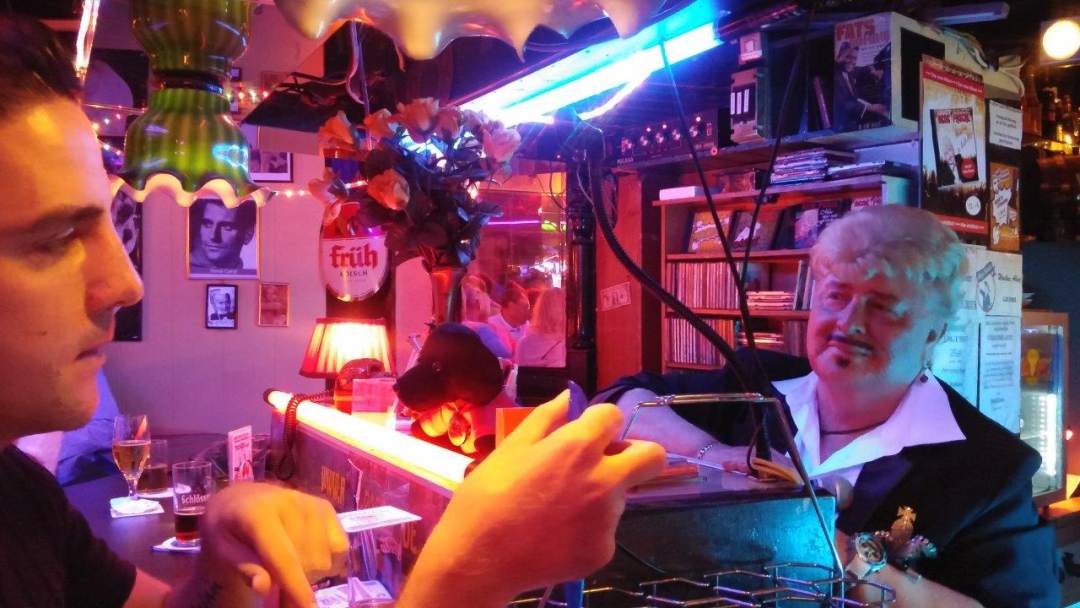 Here, the records go round and round while the hands of the clock stay still. Based on the clothes alone, one could assume these guests have been partying non-stop since 1983. We appear to be the only trash tourists there that can't sing along to René's super hits "You have beautiful blue eyes" and "Jambalaya".
And then, shortly after 1 am, the music abruptly stops. Because apparently, Rene's music mix isn't getting the people on their feet anymore. Quite the contrary. And then we hear:
"Oh, come on! There's another person back there asleep on their table!"
We took this as our cue to leave and headed home.
Read Part 2 of my visit to Essen and hear all about villas and Van Gogh, sailing and sandy beaches, deadly viruses and cramped chickens. You won't want to miss it!
Like my Facebook-Page to be updated about more stories.
What's your opinion on Essen?
Fancy a trip to the Coal Pot?
Leave your comment!